Literally hundreds of individuals volunteered to help make the 2015 New Day Campaign possible in ways large and small. Though too many to name or even track, volunteers merit acknowledgment up front for making all we are doing possible.
In addition, the New Day Campaign would be inconceivable without significant financial support from the many individuals, foundations, and organizations believing in our mission. 
To all we are deeply grateful.
Thank you to 2015 Exhibition and Event Sponsors: 
Anonymous 
Baltimore Collegetown Network
Friends Research Institute
Greg & Betsey Hobelmann
The Institute for Integrative Health
The Ivy Bookshop
The Kristin Rita Strouse Foundation
Lindy Lord Family Fund
Marian House
MECU Baltimore's Credit Union
Mental Health Association of Maryland
Mosaic Community Services
NAMI Metro Baltimore
National Council on Alcoholism and Drug Dependence of Maryland
Nikki Perlow Foundation
Peter G. Dodge Foundation
Powell Recovery Center
Thank you to The Classic Catering People for sponsoring catering for multiple events, and to Northeaster Signs for sponsoring signage at our exhibitions.

Our October events in Baltimore City are part of Free Fall Baltimore, made possible by the Baltimore Office of Promotion & The Arts, an independent 501(c)3 non-profit organization, and the generous contributions of BGE, The Abell Foundation, National Endowment for the Arts, American Trading & Production Corporation (Atapco), The Henry and Ruth Blaustein Rosenberg Foundation, and the Joseph and Harvey Meyerhoff Charitable Funds.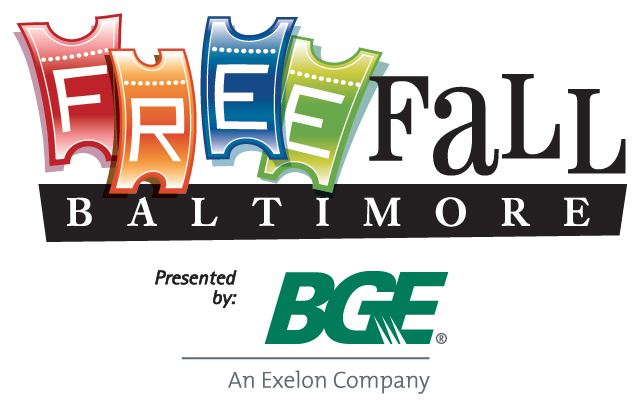 Thank you to other Foundations and Organization Contributors:
Behavioral Health Systems Baltimore
Berkshire Taconic Community Fund
Carolyn Anne Foundation
The Cohen Opportunity Fund
The Hopkinson Family Fund
Jacob and Hilda Blaustein Foundation
JoAnn and Jack Fruchtman Charitable Fund
Katrina Tagget Memorial Foundation
Lois and Irving Blum Foundation
Millenium Health
The Nancy Patz Reading Fund
The Warnock Foundation
The Zanvyl and Isabelle Krieger Fund
Thank you to those raising money in honor of loved ones on CrowdRise:
Ann Bracken for Dorothy
Peter Bruun for Elisif
ellen cherry
Sandra Cryder
Rebecca Donnelly for Bill Donnelly
Ruby Fulton for Katie
Julie Gabrielli for Andrea
Amelia Hutchison
Jessica Kohnen for her mother
Peggy Kolodny for William
Rebecca Mark
Cheryl Maxwell for Carolyn Anne Watts
Ruggles, Holman, Graillot Team for Emily
Felicia Shakman for Ralph Gustavsen
The Tagget Family for Katrina
Thank you to House Party Hosts:
Phylicia Ghee
Nancy Patz
William Merritt & Tricia Rubacky
Farlow Blakeslee & Esther Sharp
Sherry Welch
Thank you to Individual Contributors:
Karen & Doug Alexander
Pat Alexander
Anonymous (6)
Sandy Asirvatham
Susan & Stuart Auchincloss
Jim Baker
Todd Baker
Helen Mary & Julian Ball
Kimberly Battista
Peter Beilenson
Heidi & Brian Berghuis
Pamela & Mark Berman
Tammy Black
Isabel Blackburn
Katharine Blakeslee
Jeanne Blaustein
Susan Blaustein
Jeni Blessman
Doreen Bolger
Ann Bracken
Jen & George Brajcich
Maria Broom
Jane Brown
Serafina Krag & Peter Bruun
Janice Campbell
Philip Campbell
Kristin Canavan
Jason Caren
John Carter
Ryan Casey
Evelyn Chatmon
Mina Jung Cheon
ellen cherry
Anna Ciarrocchi
Susan Ciaverelli
Diana Clark
Richard Cleaver & George Ciscle
Shannon Claire
Barbara Crosby
Mike Cross-Barnet
Sandy Cryder
Jon Dallas
Scott & Edie Dallas
Babette Dalsheimer
Tiffany DeFoe
David C. Deger
Julia DiBussolo
Diane DiSalvo
Daniel DiSilva
Judy Dobbs
Anne Donnelly
Mark Downey
Amanda Duncan
Carla Dunlap
Caroline L. Egan
Valerie Eisman
Edna Emmet
Alvin Eng
Elizabeth Field
Rory Flanagan
Lionel Foster
Steve & Julia Frazier
Janis Hersh & Marc Frader
Mary French
Ben Frock
Ruby Fulton
Tim Fuss
Julie Gabrielli
Kate & Will Goodhart
Steve Goodman
Mischa Greig
Jen Grow
Nick Hambridge
Keith Harrelson
Michele & Michael Harrington
Michael Harris
Lisa Hawks
Emily Heinlein
Jeannette Hobbins
Craig Hankin
Cynthia & John Heller
Thomas & Sandra Hess
Elizabeth & Greg Hobelmann
The Hockstein Family
Francine Graillot & Hugh Holman
Michael Horlick
Kelly Horvath
Amanda & John Hostalka
Susan Hughes
Kay Hutchison
Steven Jamar
Elisabeth Jayne
Janet Jeffers
Chip & Joni Jones
Caroline & James Jordan
K-Town Studios
Kim & Carole Kennedy
Pamela Kish
Ben & Joni Knight
Craig Knight
Jessica Kohnen
Philip Kohnen & Family
Peggy Kolodny
Barbara & Frank Kreegan
Claudia Laslie
Josh Leventhal
JP & Ellen Lenventhal
Karen Levin
Nancy & Jack Lewin
Gerard Lioi
Sandy Litchfield
Leslie Lloyd
Lindy Lord
Sheryl Lechner & Frank Lowenstein
Cliff Lynn
Lois Macht
Cori Magin
Courtney Malvik
Chris Mandra
Rebecca Mark
Louise Smith Marks
Donald Mathis
Jamie McDonald
Wiiliam McLennan
Louis Meren
Andrea Mills
Chris Muldowney & Dawna McGlynn
Laurie Norton Moffatt
Joni Moffitt
Kevin Griffin Moreno
Marie-Michele Mugnos
Veronneau Music
Edwin & Rebecca Neill
Cece Newman
Mary Newton
Jane Nitsch
Becky Norum
Kathy O'Dell
William & Virginia O'Keefe
Beth Fredrick & Don Palmer
Drew Pardol
Christine Peck
Sam Perlman
Rachel Perry
Mary Perschy
Steven Phifer
Ann Rasenberg & Roxie Powell
Hope Prosky
Lizelle Hearts Putch
Tim & Elisif Quinson
David Rajesh
Paula & Joseph Records
Sheela Reddy
Erin Rericha
Debbie Rock
Ann Rollo
Bill Romani
Margaret Rose
Burton Rosen
John & Julie Rosicky
Susan L. Roth
William Merritt & Tricia Rubacky
Terry Rubenstein
D. Fairchild Ruggles
Molly Ruggles
Adhikari Sacha
Alex Salmaniw
Lauren Saunders
Frederica K. Saxon
Ellen Schall
Lance Schumacher
David Ettlin & Bonnie Schupp
Ruth Seligman
Jen Seletzky
Lana Sensenig
Laura Sensenig
Felicia Shakman
Esther Sharp & Farlow Blakeslee
Sherry Silverberg
Mark Sine
Charmaine Slaven
Beth Laking & Jim Sobczak
Monica Staub
Ashley Steineger
Andrew T. Stephenson
Katherine Stierhoff
Lee Stierhoff
Brett Berliner & Sharon Stowers
Jozef Sulik & Benjamin Prosky
Beth Sullivan
Daphne Swancutt
Marylynn Swartz
Maureen Swift
Kate Thomas
Nicholas Thompson
Jennifer Thorpe
Valerie Tracy
Laura & Neil Tucker
Dean Uehara
Jane & Carl Valentine
Neil Shade & Victoria Vestrich
Sara R. Voigt
C. Curtis Croley & Rebecca Weaver
Renee Weitzner
Patricia & Robert Welsh
Dena & Thomas Wheeler
Gloria Williams
Kelly Williams
Robert Williams
Shannon Winakur
Robin Yasinow
Jean Wyman
The Zeimer Family
Jodie Zisow
Liz Zogby