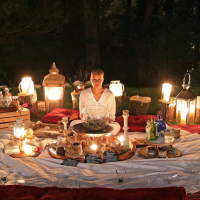 Trauma, Art, & Healing Part 2: Healing Experience
Space is limited for the Tea Ceremony and advance reservations are required -- go to this link to make a reservation.
Part Two of a two-part event about the many paths to healing in the face of trauma or other challenges. For "Part 1: Community Conversation" information, go here.
Healing Artist Phylicia Ghee leads a ritualistic Tea Ceremony, engaging in "silence, presence and inner transformation through a dance between the five elements (Fire, Water, Earth, Air & Ether) and five senses (sight, sound, touch, taste, smell)." Participants will explore and awaken to their senses, holding space for themselves and one another in this communal healing experience.
Sponsor:
REACH: Prevention, Education, Advocacy Center at Washington College
Partner:
Kent County Arts Council, REACH: Prevention, Education, Advocacy Center at Washington College, Herbal Alchemy, Chester River Wellness Alliance
---
This event took place in conjunction with the exhibition Heroin & Healing
An exhibition project about how the opioid epidemic and hurting go together, and what we are doing to make things better. Heroin & Healing features art by seven individuals (Elisif Bruun, Peter Bruun, Phylicia Ghee, Michelle Labonte, Mark V.…