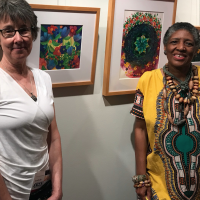 Artist Information Session
Maryland State Arts Council
175 W. Ostend Street #E, Baltimore MD, 21230 September 12, 2018, 3:30 - 5:00pm
Are you a visual artist, performer, writer, or other sort of creative person who wants to challenge stigma associated with mental illness or substance use? Do you care about making a difference with your art and words? Here is your chance to learn how to become involved with the New Day Campaign's Dusk & Dawn series of programs in 2018-2019: join us for a gallery reception from 3:30-4:00pm, followed by a presentation and question and answer session with New Day Campaign founder and director, Peter Bruun. 
You may attend in person or remotely via WebEx audio and video conference. If you plan to attend the meeting via WebEx, please register in advance for this meeting:
1. Go to https://marylandcommerce.webex.com/marylandcommerce/onstage/g.php?MTID=eeadbf861cd158ebeb938a7e46b5226c8
2. Click "Register".
3. On the registration form, enter your information and then click "Submit".
Once the host approves your registration, you will receive a confirmation email message with instructions on how to join the event.
Related Exhibition: Art on the Fly: Dusk & Dawn
Sponsor:
Maryland State Arts Council