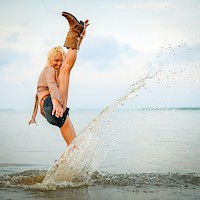 Many Pathways: Addiction
The Many Pathways Series includes performance, personal sharing, conversation, and information on the many pathways to healing that are available to us. Many Pathways: Addiction begins with a 5:30 reception and art exhibition viewing followed at 6:00pm by sharing and a conversation moderated by Susan Pompa of NCADD-Maryland. Catering provided by the Classic Catering People.
This event is part of Free Fall Baltimore.

Sponsor:
National Council on Alcoholism and Drug Dependence of Maryland (NCADD – Maryland)
Partner:
National Council on Alcoholism and Drug Dependence of Maryland (NCADD – Maryland)
---
This event took place in conjunction with the exhibition People & Places: A Primer
People & Places: A Primer presents profiles of people with mental illness and addiction, and the people and places that care for them. While not a comprehensive survey, this exhibition offers, in sample-platter style, a range of good things…