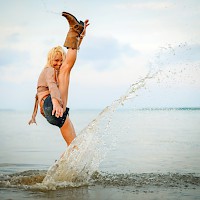 People & Places: a Primer Opening Reception & New Day Campaign Kick-Off
Celebrate the kick-off of the New Day Campaign and the opening of its inaugural exhibition. People & Places: A Primer features artists' portrayals of 22 diverse individuals who have moved through the behavioral health ecosystem in some way, shape, or form. At 6:00pm, a reading of Lucille Clifton's Won't You Celebrate with Me by Michael Burke is followed by remarks from New Day Campaign founder and director Peter Bruun, who will be joined by singer Cheryan Clinton, eight years in recovery, and others who will share from the heart. The evening includes background music provided by The Wafflers and jazz composer and musician George Spicka, and artist Nicole Fall offering an interactive empowerment experience. Catering is provided by the Classic Catering People.
This event is part of Free Fall Baltimore.

Sponsor:
Powell Recovery Center
---
This event took place in conjunction with the exhibition People & Places: A Primer
People & Places: A Primer presents profiles of people with mental illness and addiction, and the people and places that care for them. While not a comprehensive survey, this exhibition offers, in sample-platter style, a range of good things…